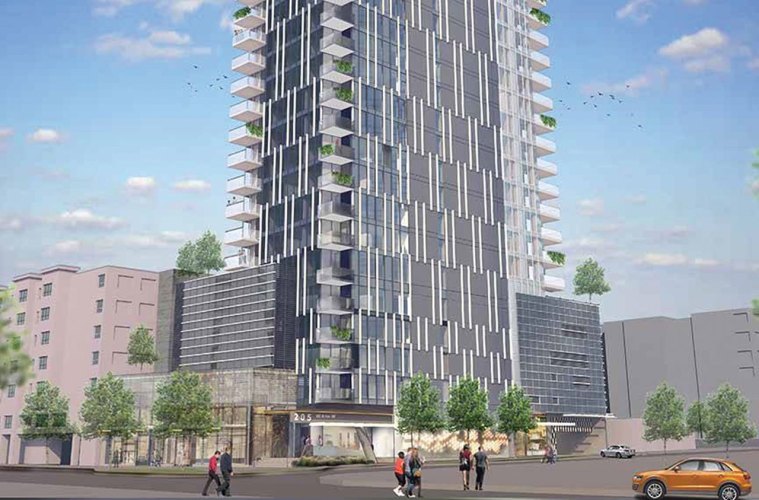 Almost exactly one year ago, Bosa Development paid $11 million for the Sushi Maru site in downtown Bellevue, at 205 105th Ave. N.E. Prior plans filed with the city indicated another condominium tower for the site, which is immediately north of Bosa's One88, which is mostly sold out and nearing completion (occupancy is expected next year).
The second condo tower has now entered design review with the city. It'll have 21 stories, 77 units and 137 underground parking stalls on two levels. As with One88, Amanat Architect of Vancouver, B.C., is designing the project.
A public presentation of the unnamed tower will be held at 7 p.m. Thursday, Aug. 22 at City Hall, 450 110th Ave. N.E. The public comment period ends that same day. The city says that a SEPA determination of non-significance is expected.
The city lists the project at 138,450 square feet, which probably excludes the parking.
Bosa mentions "two active commercial uses" at grade, likely indicting some small retail/commercial bays. The site is on the northwest corner of 105th and Northeast Second Street. It totals 17,945 square feet.
Bosa hopes to start construction next year, and it typically acts as its own general contractor.
Both the new tower and the 21-story, 143-unit One88 will be walkable to Downtown Bellevue Station, where light-service will begin in 2023. Both are also close to Bellevue Square and Lincoln Square. Bosa also has a third site lined up—presumably also for condos—on the Park Row retail complex on the west side of Bellevue Way Northeast, which the developer purchased this February for $36 million.
Bosa's biggest local project remains the 58-story 3rd & Cherry condominium tower on the vacant downtown Seattle block at 601 Fourth Ave. No permits have been issued there, but the project received a favorable recommendation following it fourth design review in June.
This was originally posted on djc.com by BRIAN MILLER.
The following analysis of the Western Washington real estate market is provided by Windermere Real Estate Chief Economist Matthew Gardner. I hope that this information may assist you with making better-informed real estate decisions. For further information about the housing market in your area, please don't hesitate to contact me.
Economic Overview
Washington State employment jumped back up to an annual growth rate of 2.4% following a disappointing slowdown earlier in the spring. As stated in the first quarter Gardner Report, the dismal numbers earlier this year were a function of the state re-benchmarking its data (which they do annually).
The state unemployment rate was 4.7%, marginally up from 4.5% a year ago. My current economic forecast suggests that statewide job growth in 2019 will rise by 2.6%, with a total of 87,500 new jobs created.
Home Sales Activity
There were 22,281 home sales during the second quarter of 2019, representing a drop of 4.8% from the same period in 2018. On a more positive note, sales jumped 67.6% compared to the first quarterof this year.
Since the middle of last year, there has been a rapid rise in the number of homes for sale, which is likely the reason sales have slowed. More choice means buyers can be more selective and take their time when choosing a home to buy.
Compared to the second quarter of 2018, there were fewer sales in all counties except Whatcom and Lewis. The greatest declines were in Clallam, San Juan, and Jefferson counties.
Listings rose 19% compared to the second quarter of 2018, but there are still a number of very tight markets where inventory levels are lower than a year ago. Generally, these are the smaller — and more affordable — markets, which suggests that affordability remains an issue.
Home Prices
Year-over-year price growth in Western Washington continues to taper. The average home price during second quarter was $540,781, which is 2.8% higher than a year ago. When compared to first quarter of this year, prices were up 12%.

Home prices were higher in every county except King, which is unsurprising given the cost of homes in that area. Even though King County is home to the majority of jobs in the region, housing is out of reach for many and I anticipate that this will continue to act as a drag on price growth.
When compared to the same period a year ago, price growth was strongest in Lewis County, where home prices were up 15.9%. Double-digit price increases were also seen in Mason, Cowlitz, Grays Harbor, and Skagit counties.
The region's economy remains robust, which should be a positive influence on price growth. That said, affordability issues are pervasive and will act as a headwind through the balance of the year, especially in those markets that are close to job centers. This will likely force some buyers to look further afield when searching for a new home.
Days on Market
The average number of days it took to sell a home matched the second quarter of 2018.
Snohomish County was the tightest market in Western Washington, with homes taking an average of only 21 days to sell. There were five counties where the length of time it took to sell a home dropped compared to the same period a year ago. Market time rose in eight counties and two were unchanged.
Across the entire region, it took an average of 41 days to sell a home in the second quarter of 2019. This was the same as a year ago but is down 20 days compared to the first quarter of 2019.
As stated above, days-on-market dropped as we moved through the spring, but all markets are not equal. I suggest that this is not too much of an issue and that well-priced homes will continue to attract attention and sell fairly rapidly.
Conclusions
Posted on July 29, 2019 at 8:27 pm
Karen Prins
Category:

Local Market Update, Real Estate Investing, The Gardner Report, Windermere
Tagged

economics, economy, Gardner Report, housing market, karen prins, market, Matthew Gardner, q2, quarter 2, real estate, second quarter, stats, western washington, windermere
Why have property taxes gone up so much in Washington State this year and what can we expect them to do in 2019? Windermere Chief Economist Matthew Gardner answers the question that many homeowners are asking.
This post originally appeared on the Windermere.com Blog.