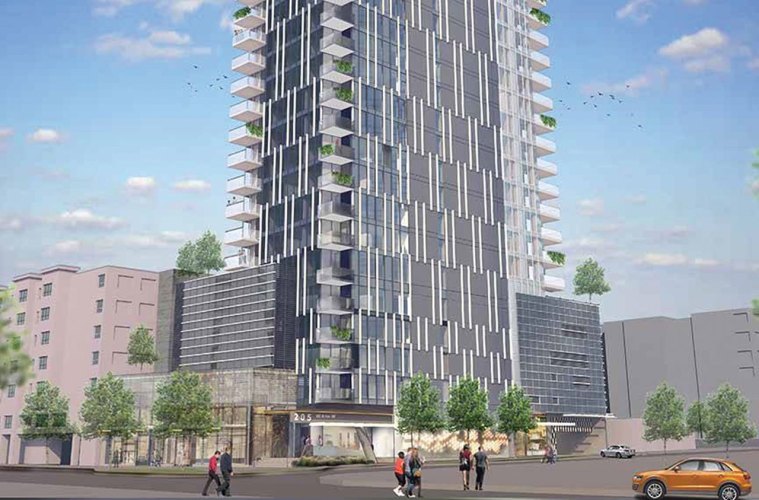 Almost exactly one year ago, Bosa Development paid $11 million for the Sushi Maru site in downtown Bellevue, at 205 105th Ave. N.E. Prior plans filed with the city indicated another condominium tower for the site, which is immediately north of Bosa's One88, which is mostly sold out and nearing completion (occupancy is expected next year).
The second condo tower has now entered design review with the city. It'll have 21 stories, 77 units and 137 underground parking stalls on two levels. As with One88, Amanat Architect of Vancouver, B.C., is designing the project.
A public presentation of the unnamed tower will be held at 7 p.m. Thursday, Aug. 22 at City Hall, 450 110th Ave. N.E. The public comment period ends that same day. The city says that a SEPA determination of non-significance is expected.
The city lists the project at 138,450 square feet, which probably excludes the parking.
Bosa mentions "two active commercial uses" at grade, likely indicting some small retail/commercial bays. The site is on the northwest corner of 105th and Northeast Second Street. It totals 17,945 square feet.
Bosa hopes to start construction next year, and it typically acts as its own general contractor.
Both the new tower and the 21-story, 143-unit One88 will be walkable to Downtown Bellevue Station, where light-service will begin in 2023. Both are also close to Bellevue Square and Lincoln Square. Bosa also has a third site lined up—presumably also for condos—on the Park Row retail complex on the west side of Bellevue Way Northeast, which the developer purchased this February for $36 million.
Bosa's biggest local project remains the 58-story 3rd & Cherry condominium tower on the vacant downtown Seattle block at 601 Fourth Ave. No permits have been issued there, but the project received a favorable recommendation following it fourth design review in June.
This was originally posted on djc.com by BRIAN MILLER.
The local real estate market looks like it might finally be showing signs of softening, with inventory up and sales down. More sellers have opted to put their homes on the market. Inventory was up 47 percent in King County and price increases were in the single digits. Despite the increase in inventory and slowdown in sales, it's still a solid seller's market. Over half the properties purchased in June sold for more than list price.
Eastside
A booming economy offered little price relief for buyers looking on the Eastside. In a recent study of economic strength by state, Washington ranked number one in the country. An additional report targeting cities ranks the Seattle-Bellevue-Tacoma market as the nation's fourth strongest economy. The median price of a single-family home on the Eastside rose 10 percent over a year ago to $977,759 setting another record. There is some good news for buyers. Inventory rose to its highest level in three years, with the number of homes for sale increasing 46 percent from the same time last year.
King County
The number of homes on the market in King County soared 47 percent from a year ago, the biggest increase since the housing bubble burst. Despite the increase, there is just over one month of available inventory, far short of the four to six months that is considered a balanced market. The median price of a single-family home increased 9 percent over last June to $715,000. That's down 2 percent from the $726,275 median in May. Home prices haven't dropped from May to June in King County since the last recession.
Seattle
Seattle trails only Bay Area cities when it comes to greatest profits for home sellers. That may help explain the surge in inventory in June. For example, the number of homes for sale in the popular Ballard/Green Lake area doubled from a year ago. Even though buyers are finally getting more choices, demand still exceeds supply. Homes sell faster in Seattle than in any other U.S. real estate market. That demand propelled the median price of a single-family home to $812,500; up 8 percent over last June and down from the record $830,000 set in May.
Snohomish County
The largest jump in home prices in the region came in Snohomish County. While higher-priced markets in King County are seeing increases slowing slightly, the median price of a single-family home here jumped 14 percent to $511,500, a new high for the county. Buyers willing to "keep driving until they can afford it" are finding Snohomish County an appealing destination.
This post originally appeared on the WindermereEastside.com Blog.