Image Source: Shutterstock
In recent months, homes have taken on additional roles as offices, schools, and places of entertainment as staying at home has become the norm. With the extra time spent inside and the additional wear and tear on your home, this is a perfect time for those Do-It-Yourself projects you've been wanting to get done.
Before getting out the power tools, take time to consider the projects you have in mind. Assess your budget to see if certain projects should be prioritized over others, or if you have the financial capacity for only one or two projects at this time. If you're questioning how the renovations will affect resale value, please feel free to reachout to me!
Here are a few ideas:
Landscaping and garden projects: the steppingstones of your home's DIY outdoor makeover.
A great first step is to start with your front yard—it's the first thing people see when approaching your home and upgrades to it will improve the curb appeal.
Start with the hardscaping projects—driveways, decks, fencing, walkways—before installing plants.
When it comes time to plant, add organic material to your soil such as peat moss, mushroom compost, or leaf mold for added health.
Add in different shapes and textures of plants to give your landscaping a varied, vibrant look.
Repainting a room: follow these steps to give any room a fresh look and feel.
The repainting process begins by moving all furniture out of the room. If you want to pile everything in the center and work around it, be sure to lay your drop cloths on the floor before doing so and cover your furniture to prevent damage.
Repair any damage to the walls and fill in cracks with putty. This is a good time to remove all electrical outlets and switch covers to get the walls completely flat.
Choose the appropriate brush or paint roller depending on the size of the surface area.
Once the walls are painted, remove your painter's tape and paint the trim.
Flooring projects: how to repair or add flooring that will have you walking through your house comfortably.
Wood floor damage: To remove surface scratches from wood floors, use steel wool or fine grit sandpaper and finish with a top coat of polyurethane. For deep scratches, use wood filler that closely matches your flooring in color, and apply a wood finish layer on top.
Vinyl floor damage: If your vinyl flooring has ripped up, apply a vinyl flooring adhesive and lay the ripped piece into place. For sections that are completely torn off, use a utility knife to cut a new piece of flooring and apply adhesive when matching the piece back into the floor.
New tile flooring: Before you start tiling, wash the floor with a commercial detergent to remove dirt and stains. If you are laying new tile over old tile, make sure the original layer is secure. Begin by laying out the pattern before making your tile cuts. Then you are ready to apply the mastic or mortar, and finally lay the tiles. Let the tile sit for at least a day before grouting the joints.
With so many people staying at home, DIY projects are at an all-time high. Doing projects like these yourself may not be easy, but it gives a greater sense of ownership, and can often save you money by not outsourcing the work. For additional help on these projects and to find new ones, check out YouTube's vast DIY resources.
---
This post originally appeared on Windermere.com
Posted on July 3, 2020 at 7:07 am
Karen Prins
Category:
For Your Home
Tagged

covid-19, covid19, DIY, home, karen prins, projects, real estate, resale, updates, value, windermere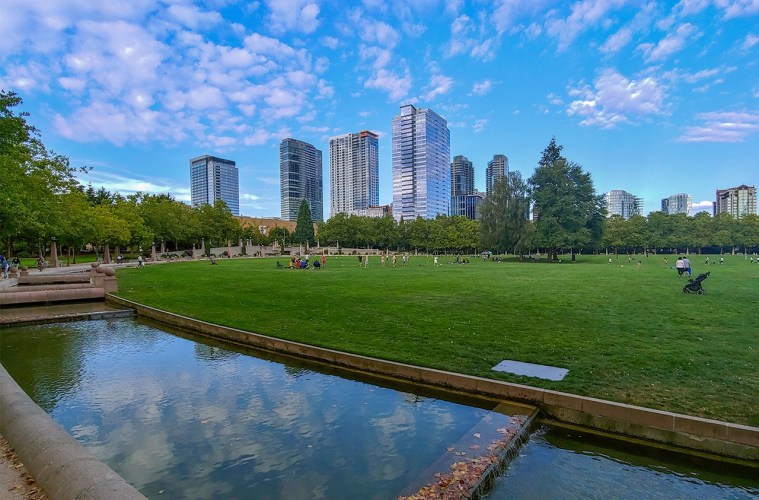 The challenges presented by COVID-19 have been felt locally by every home buyer, seller and real estate broker. Residential real estate, which was moving at breakneck speed through February, came to a screeching halt for two weeks in March after the initial Stay Home order was implemented.
As soon as Governor Inslee declared real estate an essential business, the engines started to rev again. Despite job losses and a nosedive in general consumer confidence and spending, home buyers started to jump back into the market. Theories abound about why this could happen in the middle of a pandemic:
With some exceptions, our local tech sector has generally performed well during COVID-19 and its employees may feel reasonably insulated from the worst of the economic fallout. For some, their stock options may have actually increased in value during the worst of the coronavirus.
Many buyers were already feeling the squeeze of low housing inventory and the defeat of losing out in multiple-offer situations. Some likely saw the lower competition during the shutdown as an opportunity to finally gain a foothold.
Mortgage rates in the early stages of the shutdown dropped to historic lows, with some 30-year fixed loans carrying percentage rates in the low threes.
Renters and homeowners with sustained income security found themselves suddenly doing everything from home – working, schooling, exercising – which may have motivated them to pursue a change in space, moving from dreamers to active buyers.
Lots of real estate "window shoppers" suddenly had a lot more time on their hands and spent hours perusing eye-candy listings online and watching more HGTV than ever, accelerating their property lust and their entry into the buyer pool.
Some of these theories have metrics behind them and some remain just theories. Regardless of the motivation, buyers are back "out" in force, touring prospective homes online, via livestream video with a broker or pre-produced 3D tours and videos. Brokers are showing them homes in person too – while following many safety precautions. Because of this strong buyer interest, prospective sellers are hearing from their brokers that now may be a good time to list.
For weeks now, we have seen multiple offers on homes in popular neighborhoods. Brokers, for whom business was put on hold at the end of March, are as busy as at any other point this year. Though the new normal is still not completely normal, the market in many neighborhoods and price points seems to be skipping along as if it were.
To learn how various sectors of our local real estate market are performing during COVID-19, we asked Windermere experts from Seattle and the Eastside what they are seeing.
Real Estate Across Seattle
Laura Smith, co-owner and principal broker of Windermere Real Estate Co., which operates multiple real estate offices in Seattle, has been busy helping brokers ramp up quickly and navigate a hefty transaction load along with new protocols for listing and showing homes. "It's been a total whirlwind," she said. "The market went from zero to sixty in a heartbeat."
Smith explained that out of nine MLS areas in the city of Seattle, seven had less housing stock (measured as months of inventory) than what was available in May 2019, and the other two areas had the same inventory levels as last year. She noted that Seattle's pending home sales during Week 3 of May already had reached 95% of the transaction count from the same week in 2019.
"Right now buyers want in," Smith said, "and inventory numbers favor sellers." Prices, as a result, have "stayed strong," according to Smith, even in the midst of a health-related shutdown.
Bouncing Back on the Eastside
According to Matt Deasy, President of Windermere Real Estate / East, Inc., the volume of business has bounced back quicker than expected and brokers are busy helping buyers and sellers while following new practices to prevent the spread of the coronavirus.
"After reentering the market, buyers are finding the competition as fierce as it was before COVID-19," Deasy said. His analysis shows that while Eastside pending sales are still down from a year ago, by Week 2 of May they were at 73% of last year's figure from the same week. "Each week we are seeing the market steadily catch up to last year," Deasy observed, "and I think it will soon head north of 2019 weekly transaction yields."
Deasy pointed out that low Eastside housing supply is a challenge for buyers rushing back in to the market. "There is so little for sale" he said, noting that of the Eastside's eight MLS areas, all but one had extremely low levels of inventory. "In fact," Deasy continued, "three Eastside areas have a month or less supply of homes." As a result, he predicts that "prices in popular neighborhoods will continue to climb" for the foreseeable future.
The Luxury Market
Patrick Chinn, owner of Windermere Real Estate Midtown, regularly works with luxury brokers and their clients. He observed that the luxury market was proceeding at a seasonally appropriate pace prior to the shutdown but has appeared a little slower to come back online as restrictions on real estate lifted. "Luxury sellers are typically not in a rush," Chinn noted, "and the safety considerations of listing a home during COVID-19 may have delayed" their entry into the market.
Due to their high net worth, luxury buyers on the other hand may have been "less adversely impacted by the very real economic impacts of the shutdown," Chinn said. But he also observed that fluctuations in the stock market usually make for "a restless luxury market, despite greater potential access to capital." Chinn expects the pace of new high-end transactions and inventory to remain below what it was pre-shutdown, at least until there's a clearer economic picture in sight.
Chinn did note that if a singular property is listed during an economic downturn such as the one we now find ourselves in, there can still be great urgency by luxury buyers to purchase. He gave as an example a Medina property listed during the topsy-turvy days just before the shutdown that quickly went under contract at its asking price of $11.75 million. "Iconic homes on iconic streets will still generate lots of enthusiasm, even during a downturn," Chinn said.
He reported that one of his brokers went full speed ahead to list a one-of-a-kind beachfront property in Magnolia. Even during the lingering impacts of COVID-19, "there's no time like the present for listing incredible homes," Chinn explained.
Continuing New Construction
Joe Deasy, co-owner of Windermere Real Estate / East Inc., says that the early phase of the shutdown created significant waves for residential builders. Initially both the building and listing/showing of all residential new construction projects were stopped due to the Stay Home order.
As builders start building again and brokers start showing finished units, "the early pace will naturally be a bit slower," Deasy said. He explained this as a result of builders needing to rehire furloughed workers and buyers' agents implementing safety measures to prevent the spread of the coronavirus.
"I expect things to accelerate pretty quickly as we move forward," Deasy predicted. His reason? "There's so little inventory out there, both new construction and resale," he explained. "The product that is available looks pretty attractive right now, since it's brand new and no one's ever lived in it."
Deasy remains positive about the region's new construction market. He pointed out that leading into the Stay Home closure, Windermere's King County new construction business was through the proverbial roof. "Even factoring in the shutdown, our year-to-date unit sales are up 41% over last year," he noted, "and our sales volume is already at $700 million."
Looking ahead, Deasy predicts that demand for new construction homes will remain strong and that supply will have the biggest impact on the sector's overall market performance. "Low inventory may influence 2020 sales more than the shutdown," he explained, "which, all things considered, was relatively brief."
This post originally appeared on GettheWReport.com
Posted on May 29, 2020 at 12:06 am
Karen Prins
Category:

Local Market Update, Local Real Estate News
Tagged

Bellevue, covid-19, eastside, housing market, karen prins, local market, real estate, seattle, shutdown, virus, windermere
Image Source: Canva
Working from home is an aspiration for many of us, but to do so effectively takes effort. A disorganized space at home can be just as troublesome as a hectic office. The most disciplined telecommuters will tell you that you need a structured routine and organization in order to be successful.
Having a designated workspace is one of the most important elements to your success when you make the switch to telecommuting. Even if you live in a small space, you need to find a balance between home and office. People who work from home often have a difficult time separating their work hours from their non-work hours because it's so easy to keep at it late into the night. But maintaining a balance and shutting down the computer is important for overall wellbeing. What are some other must-haves for a successful home office? Here are the top five:
Natural Light – Study upon study tells us that natural light is needed to boost productivity and mood. Make sure to set your desk up as close to a window as you can. If being near a window isn't an option, a natural light lamp is the next best thing. It helps balance your body clock and leaves you feeling rested and refreshed.
To-Do List or Planner – Start each day off by making a to-do list outlining what you need to get done before the end of the workday. Make sure to set a realistic time frame in which all of that should be completed, so you can check each one off the list and feel immense accomplishment once you've completed them all.
Storage – If you have a big enough space, put in a large bookshelf where you can organize everything (think storage boxes). It reduces clutter and looks stylish. Using your walls and cabinetry is the most efficient use of space.
Calendar – Many people tend to rely on digital calendars these days because of their convenience. When all of your devices sync together and pop up with reminders, you never have to worry about missing an appointment. However, many people find that it helps to keep a paper calendar handy too so you can easily view your whole month at a glance. Choose which options works best for you by playing with both options, or something in between and see which one lets you be more productive with the least amount of stress.
Space for Inspiration – It doesn't matter what field you work in, having a source of inspiration in your workspace is essential. Whether it's a photo of your family, your dream car, or that vacation you've been dying to take, having that inspiration right in front of you provides a constant reminder of why you do what you do.
---
This post originally appeared on the Windermere.com Blog
Posted on March 12, 2020 at 8:45 am
Karen Prins
Category:
For Your Home
Tagged

#wfh, corona, covid, covid-19, design, home office, karen prins, organize, Remote, virus, work from home