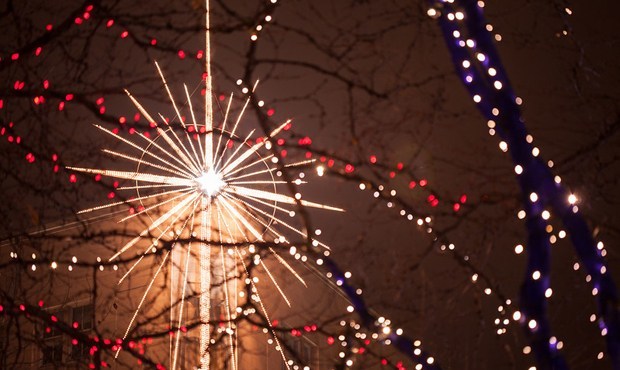 It looks like the iconic downtown Seattle holiday star will be back this year for at least one more time. Sources say a local sign company has been hired to repair and restore the 62-year-old holiday decoration that has graced the old Bon Marche (or, more recently, Macy's) department store at the corner of 4th Avenue and Pine Street since the 1950s. Workers have been visible on the roof of the building since earlier this week.
When Macy's announced in September that the store would close in early 2020, it was also revealed that the old star was in disrepair and would not be installed this year. A Macy's spokesperson said that new owners of the building would display a "reimagined" star next year.
Multiple KIRO Radio listeners had contacted the station when news first broke hoping to learn more about the condition of the star and the feasibility of it being repaired in time for this year's holiday season. In the past several weeks, Wendy James, daughter of late star designer Bob James, launched a Facebook page and began a campaign to bring the star back.
No details have been confirmed, but it looks like the old star — repaired and refurbished — will be part of the traditional tree-lighting and holiday parade scheduled to take place at Westlake Park on Friday, Nov. 29, the day after Thanksgiving.