As we move to the next phase of reopening, life feels like it's slowly inching back towards normal. The same is true in real estate. Statistics on home sales in May provided the first true picture of the effects of COVID-19. Those reports confirmed the incredible strength and stability of the local real estate market.
The Stay Home order, as expected, continued to impact the number of sales. However, the market is starting to move its way towards more normal activity. Pending sales, a measure of current demand, have risen every week since April.
The slight drop in median closed sale price is a result of a proportionately larger number of lower priced homes selling than is normal. It should not be interpreted as a decrease in individual home value.
There were significantly fewer homes for sale in May than the same time last year. With less than a month of available inventory, competition among buyers was intense. Bidding wars and all-cash offers were common.
The monthly statistics below are based on closed sales. Since closing generally takes 30 days, the statistics for May are mostly reflective of sales in April. If you are interested in more information, every Monday Windermere Chief Economist Matthew Gardner provides an update regarding the impact of COVID-19 on the US economy and housing market. You can get Matthew's latest update here. As we adapt to new phases of reopening, know that the safety of everyone remains our top priority.
EASTSIDE
KING COUNTY
SEATTLE
SNOHOMISH COUNTY
VIEW FULL SNOHOMISH COUNTY REPORT
---
This post originally appeared on GetTheWReport.com
Posted on June 11, 2020 at 11:23 pm
Karen Prins
Category:

Local Market Update, Local Real Estate News
Tagged

Bellevue, economy, Housing, karen, king county, kirkland, local, market, prins, real estate, seattle, snohomish, update, windermere, yarrow point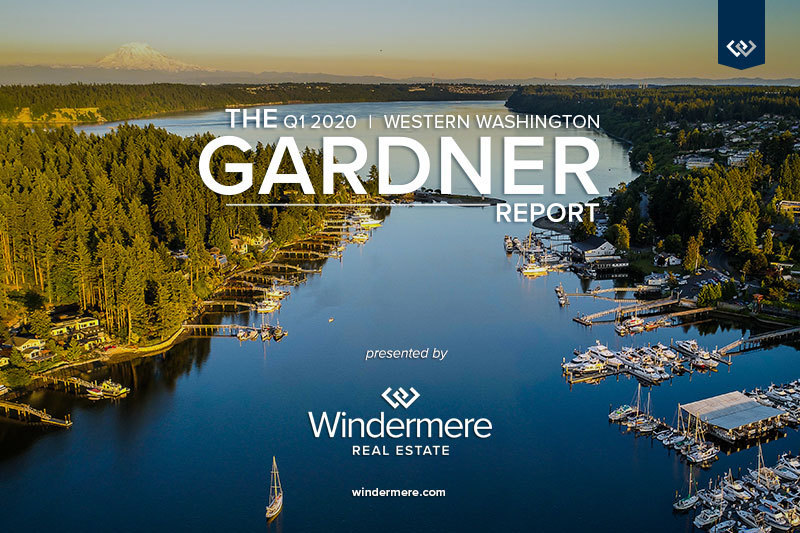 The following analysis of the Western Washington real estate market is provided by Windermere Real Estate Chief Economist, Matthew Gardner. We hope that this information may assist you with making better-informed real estate decisions. For further information about the housing market in your area, please don't hesitate to contact your Windermere agent.
A MESSAGE FROM MATTHEW GARDNER
Needless to say, any discussion about the U.S. economy, state economy, or housing markets in the first quarter of this year is almost meaningless given events surrounding the COVID-19 virus.
Although you will see below data regarding housing activity in the region, many markets came close to halting transactions in March and many remain in some level of paralysis. As such, drawing conclusions from the data is almost a futile effort. I would say, though, it is my belief that the national and state housing markets were in good shape before the virus hit and will be in good shape again, once we come out on the other side. In a similar fashion, I anticipate the national and regional economies will start to thaw, and that many of the jobs lost will return with relative speed. Of course, all of these statements are wholly dependent on the country seeing a peak in new infections in the relatively near future. I stand by my contention that the housing market will survive the current economic crisis and it is likely we will resume a more normalized pattern of home sales in the second half of the year.
HOME SALES
There were 13,378 home sales during the first quarter of 2020, a drop of only 0.2% from the same period in 2019, but 27% lower than in the final quarter of 2019.
The number of homes for sale was 32% lower than a year ago and was also 32% lower than in the fourth quarter of 2019.
When compared to the first quarter of 2019 sales rose in eight counties and dropped in seven. The greatest growth was in Cowlitz and Lewis counties. The largest declines were in Island and Snohomish counties.
Pending sales — a good gauge of future closings — rose 0.7% compared to the final quarter of 2019. We can be assured that closed sales in the second quarter of this year will be lower due to COVID-19.
HOME PRICES
Home-price growth in Western Washington rose compared to a year ago, with average prices up 8.7%. The average sale price in Western Washington was $524,392, and prices were 0.4% higher than in the fourth quarter of 2019.
Home prices were higher in every county except San Juan, which is prone to significant swings in average sale prices because of its size.
When compared to the same period a year ago, price growth was strongest in Clallam County, where home prices were up 21.7%. Double-digit price increases were also seen in Kitsap, Skagit, Mason, Thurston, and Snohomish counties.
Affordability issues remain and, even given the current uncertain environment, I believe it is highly unlikely we will see any form of downward price pressures once the region reopens.
DAYS ON MARKET
The average number of days it took to sell a home in the first quarter of this year dropped seven days compared to the first quarter of 2019.
Pierce County was the tightest market in Western Washington, with homes taking an average of only 29 days to sell. All but two counties — San Juan and Clallam — saw the length of time it took to sell a home drop compared to the same period a year ago.
Across the entire region, it took an average of 54 days to sell a home in the first quarter of the year — up 8 days compared to the fourth quarter of 2019.
Market time remains below the long-term average across the region. This is likely to change, albeit temporarily, in the second quarter due to COVID-19.
CONCLUSIONS
This speedometer reflects the state of the region's real estate market using housing inventory, price gains, home sales, interest rates, and larger economic factors.
Given the current economic environment, I have decided to freeze the needle in place until we see a restart in the economy. Once we have resumed "normal" economic activity, there will be a period of adjustment with regard to housing. Therefore, it is appropriate to wait until later in the year to offer my opinions about any quantitative impact the pandemic will have on the housing market.
ABOUT MATTHEW GARDNER
As Chief Economist for Windermere Real Estate, Matthew Gardner is responsible for analyzing and interpreting economic data and its impact on the real estate market on both a local and national level. Matthew has over 30 years of professional experience both in the U.S. and U.K.
In addition to his day-to-day responsibilities, Matthew sits on the Washington State Governors Council of Economic Advisors; chairs the Board of Trustees at the Washington Center for Real Estate Research at the University of Washington; and is an Advisory Board Member at the Runstad Center for Real Estate Studies at the University of Washington where he also lectures in real estate economics.
---
This post originally appeared on the Windermere.com Blog
Posted on April 23, 2020 at 8:08 pm
Karen Prins
Category:
Uncategorized
Tagged

chief, covid19, Economist, economy, gardner, Housing, karen prins, market, matthew, real estate, update, windermere